We are a team of volunteers from across the world inspired by a common vision to help people connect and coordinate synchronised sessions, meditations and prayers on a global and local scale. With this we aim to generate a powerful wave of positive intention and uplifting energy.
Project Vision and Mission: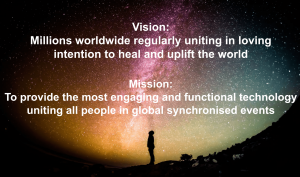 Our intention is to connect and empower a worldwide network of experienced meditators, conscious seekers, healers, artists, change-makers and communities to explore and create opportunities for greater unity and harmony in global consciousness. We are a completely voluntary, grassroots, non-profit organisation seeking to collaborate with other like-minded initiatives, organisations and companies that share a similar vision.
If you are inspired to join the movement or create your own session, write to us on unite@massmeditate.org or follow us on Facebook to get updates.
Features
Currently you can browse and join meditations, set reminders, play videos and audio tracks, and see the number of participants. See more about all features here
We are continuously developing new functions, some of the major ones being:
Monthly global multi-event page

Meditator map with geo-locations

Comments/chat for each session

Timers

Time-zone meditations

Private events and more
Our team
We are a diverse team from different professional backgrounds – business services, programming, teaching, music, healing, coaching and more – combining our different perspectives to fulfil the vision. What unites us is a passion for meditation, healing and uplifting ourselves and others around us. We keep true to our values and in addition to our individual practices we start every single meeting with a meditation connecting to our vision and using that inspiration to guide us on the journey. 
Meet our generous team of volunteers here. 
We are currently taking on more team members who would like to contribute to fulfilling this vision. If you would like to express your interest in joining the team, please write to us on unite@massmeditate.org
Key milestones:
June 2018
Shelly is inspired and guided to create a global synchronised meditation app

July 2018

Shelly and Mike meet and begin discussions to build the app

December 2018

MassMeditate.org domain is registered and branding created

February 2019

App development begins

August 2019
MassMeditate app launched in iOS and Google Play

August 2019

MassMeditate app announced at an international consciousness conference

April 2020
Alex is inspired and guided to create a global synchronised meditation app

April 2020

Alex forms

OneKIND

team in the UK – work on a similar app begins

April 2020
OneKIND discovers MassMeditate and our teams merge to fulfil the vision together

May 2020

Regular meditation practice on team meetings starts – we practice what we preach 🙂

June 2020

New connections with multiple like-minded initiatives and organisations established, e.g.

Echo Movement

,

HeartMath Institute

,

Maharishi International University

,

WeLoveMassMeditation

,

Echo Movement

,

All1Union

,

Fortunate People

,

Waves of Love Festival

and many more independent meditators and local groups

July 2020

The Mass Meditate app reaches over 2000 downloads worldwide

July 2020

MassMeditate increases social media presence